Step 1. Log in to myNOVA.
Step 2. Click VCCS SIS: Student Information Center.
Step 3. Click Self Service.
Step 4. Click Student Center.
Step 5. Your To Do List will be shown on the right navigation panel. If there are any items you need to review or complete, they will be listed. Otherwise, "No To Do's." will be shown. Note: All To Do's do not require an action from you.
(Image of To Do List in myNOVA)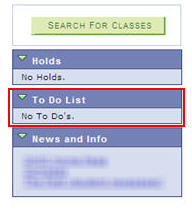 If you have a To Do item listed, click the link shown and read the description of the item. The description will include instructions you should take to complete the task. To view instructions regarding how to upload documents via the student To Do List, click here.
(Financial Aid > Checklist Items > Other)