Virtual Advising: VirtualAdvising@nvcc.edu; Email us with your questions. We will answer them within 24 business hours. A NOVA Student ID number is required for most services. Some services may require follow-up via email.
Assigned Academic Advisor:
Log in to NOVAConnect by clicking myNOVA on the NOVA home page.
Click VCCS SIS: Student Information System.
Click Self Service.

Your Advisors will be listed on the right side of the window. (You may have to enlarge the window or scroll to the right to see them.)
(Image of Program Advisor field in myNOVA)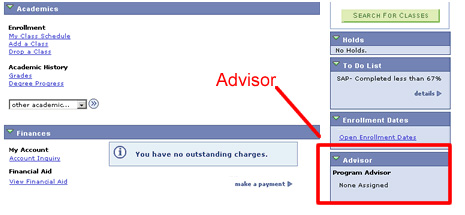 *If no advisor is assigned, you may contact Virtual Advising (https://www.nvcc.edu/advising/virtual/index.html) at VirtualAdvising@nvcc.edu.
(Registration > Academic Advisor)